A. Kimble Ouerbacker III - Lead Vocals
Steven Sunnarborg - Lead Guitar and Vocals
Tommy Rojo - Bass and Vocals
David Boice - Drums and Vocals
Kaylan Ouerbacker - Keyboards and Vocals
"

PRIMA DONNA RISING defines the next evolution of arena rock for a new generation!"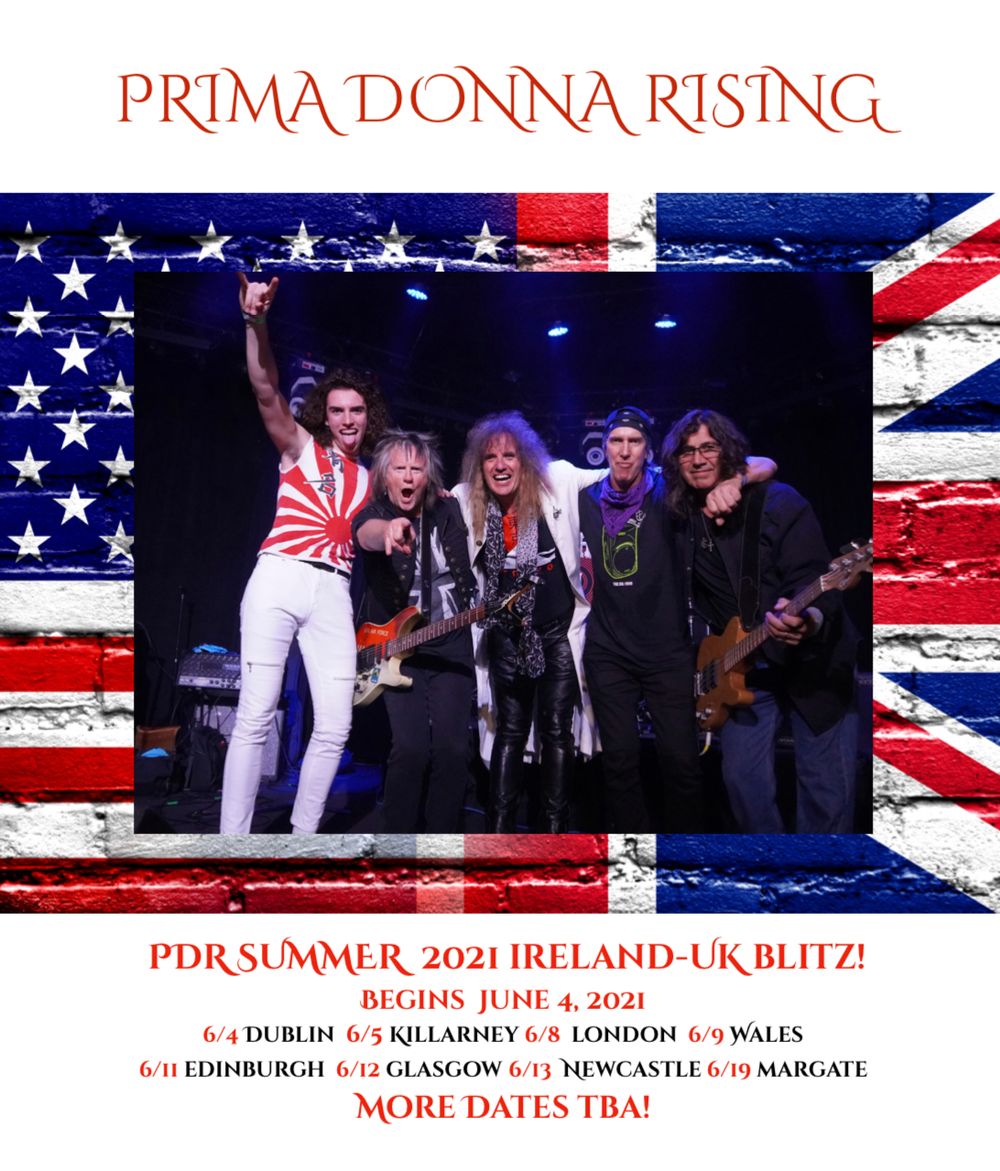 Music Track - Leading Me On
PRIMA DONNA RISING
Prima Donna Rising is pleased to announce their tour of England, Ireland, Scotland, and Wales which was postponed due to COVID-19, has been rescheduled to June 2022, and their headlining show at the World famous Whisky A Go Go has been rescheduled to July 14, 2022.
Prima Donna Rising will release their second album, "A Second Bite of the Apple," in the summer of  2022, and will support the album with a North American and European tour!  Hailing from Los Angeles, California, Prima Donna Rising is a loud, hard rock band ready to bring their brand of original rock to a world-wide audience!
Prima Donna Rising has shared the stage with Ratt, Dokken, Kix, Steelheart,The Babys, Last In Line, Frank Hannon of Tesla, Enuff Z'nuff, Angel, XYZ, George Lynch, Ross The Boss of Manowar, and Black 'n Blue, as well as classic rockers Sweet, Michael Monarch of Steppenwolf, Gary Puckett and the Union Gap, Elvin Bishop Group, and has been joined on stage by guitarist Jimmy Burkard, (Westward, ex Billy Idol), and Roger Romeo of Legs Diamond, as special guest.  In 2022 Prima Donna Rising is slated to play with Australia's own Rose Tattoo, Shark Island, Black Roze, and The Autumn Killers.  Prima Donna Rising is represented in the UK by Shock City Productions.
Prima Donna Rising began in the San Francisco Bay area in 1979, then relocated to Los Angeles.  They became a mainstay on the Hollywood club circuit and began touring throughout California, and the United States. 
In 1985, Prima Donna Rising recorded "loud, Louder, LOUDEST."  Surprisingly, shortly before their tour of Japan was to begin, Prima Donna Rising unexpectedly disbanded. 
In January 2018, Prima Donna Rising was asked by UK band JoanovArc to join them on a tour of the UK.  Prima Donna Rising reformed, and began writing and recording new material.  They released their first single "Leading Me On" and then "Nothing To Nothing" shortly thereafter.  Prima Donna Rising has been played on over 400 radio stations world wide, both terrestrial and internet, and the band has been interviewed in the French heavy metal magazine "The Metal Mag."
Kimble Ouerbacker, Tommy Rojo, (ex Jack Russell's Great White, ex Mike Pinera of Iron Butterfly and Blues Image), Steven Sunnarborg, David Boice, and Kaylan Ouerbacker bring their many years of musical experience to deliver a sonic tour de force to a new generation of Rock 'n Rollers!