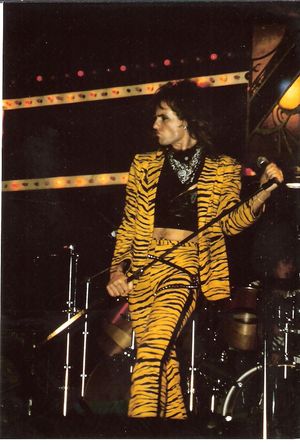 Bio
Prima Donna Rising will release their second album in  the spring  of 2023!  Hailing from Southern California, Prima Donna Rising is a loud, hard rock band ready to bring their brand of arena rock to a new generation!!
Prima Donna Rising  having concluded their first tour of the UK  in June  2022, performing in England and Scotland, the are gearing up to support the new album in the United States in 2024!!  
In January of 2018, Prima Donna Rising was asked by JoanovArc to join them on a tour of the UK.  Prima Donna Rising reformed, and began writing and recording new material, and released their first single "Leading Me On" and followed  with "Nothing To Nothing" shortly thereafter!  Prima Donna Rising has been played on over 400 radio stations around the world, both terrestrial and internet, and has been interviewed in French heavy metal magazine "The Metal Mag."  In the first ten months their social media presence grew to over 11,000 Facebook followers, combining their following from the 80s with many new listeners from around the world!    
Prima Donna Rising has been joined on stage by guitarist Jimmy Burkard, (Westward, ex Billy Idol), and Roger Romeo of Legs Diamond, as special guests, and shared the stage with many hard rock artists including Dokken,  Y&T, Ratt, Kix, Steelheart, The Babys, Heavy Pettin,' Frank Hannon of Tesla, E'nuff Z'nuff, Angel, XYZ, Ross The Boss, of Manowar, Autograph, Hurricane, and Black 'n Blue, as well as classic rockers Sweet, Michael Monarch of Steppenwolf, Gary Puckett and the Union Gap, Elvin Bishop Group, and more.  Prima Donna Rising is represented in the UK by Shock City Productions.
A leading force in what would become 80s hair metal, Prima Donna Rising began in the San Francisco Bay area in 1979, before relocating to Los Angeles.  Once in L.A., they became a mainstay on the Hollywood club circuit and began touring throughout California and the United States.  
In 1985, the band entered the studio and  recorded "loud, Louder, LOUDEST."   Prima Donna Rising, riding high on the album release and ready to capitalize on Japan's obsession with glam rock, was offered to tour Japan.  However, shortly before the tour was to begin, Prima Donna Rising unexpectedly disbanded and went silent . . .  until now!
Kimble Ouerbacker,  Steven Sunnarborg, Tony Shibumi, Greg Hollister and Hekar Rivera bring their many years of musical experience to deliver a sonic tour de force to a new generation of  Rock 'n Rollers!
Call-to-action!!  Please contact Prima Donna Rising for more information, to check out their music, and to sign up on their mailing list.